I will be addressing some massage chair FAQ (frequently asked questions) that relate to everything you need to know about massage chairs.
Have you been considering buying a massage chair but still need a few concerns and questions addressed first? Perhaps you may be suffering from sports injuries, various types of body pain or you simply want a relaxing, therapeutic experience after a long days' work.
At the end of this article, you will be privy to a multitude of facts that will allow you to make an informed choice. The best part is you will be able to correctly determine what massage chair suits your specific needs.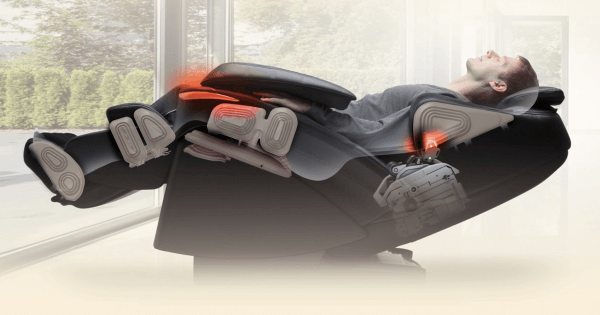 Massage Chair FAQ
Q: How much does a massage chair cost?
A: The price of a massage chair will depend on the features offered by the manufacturer. Massage chairs are placed in three groups, cheap massage chairs, affordable massage chairs and deluxe massage chairs.
Cheap massage chairs range anywhere under $1000. Affordable massage chairs range in price from $1000 and $5000. Deluxe massage chairs cost upwards of $5000.
Q: How often should you use a massage chair?
A: There is no limit to how often you should use a massage chair. Massage sessions are meant to be therapeutic and relaxing to the body meaning you can use your massage chair as often as you like.
Q: Which massage chair is the best?
A: There are different considerations that contribute to the choice of a massage chair. There are massage chairs made for different purposes such as back pain, neck pain and more. Price factors also come into play as there are massage chairs prices that vary from very affordable to deluxe models.
Q: What is the massage chair yoga stretching feature?
A: In the yoga stretch mode, a massage chair reclines to an almost horizontal position and the ottoman also comes up to a horizontal position. The airbags inflate around the calves and hold them tightly, the ottoman then goes down tractioning the whole body.
Afterwards the rollers start to roll up and down the spine essentially "stretching" it relieving any tension.
The Kahuna LM6800 is known for it's amazing yoga stretch feature.
Q: Is using a massage chair when pregnant safe?
A: Yes, it is quite safe for pregnant women to use any massage chair. There have been numerous claims that stimulation of pressure points in the back region can cause preterm labor but so far, no evidence has come up to support this claim.
The unborn baby is kept safe in amniotic fluid which absorbs any vibrations the expecting mother may experience.
Q: How do massage chairs work?
A: Massage chairs have massage rollers and vibrating heads that provide the person sitting in it the sensation of receiving a massage. Some chairs combine vibrating elements, heating elements and more to match the sensation of a massage from a professional masseuse.
Other models may also contain complex components such as airbags designed to mimic a human massage therapist's techniques.
Q: What is the zero gravity massage chair feature?
A: The zero gravity feature involves reclining the chair in a position where the user's legs are reclined in a position above or on the same level as the heart. In this position, the user experiences weightlessness lowering blood pressure and taking pressure off the spinal column.
Q: What types of massages do massage chairs come with?
A: Massage chairs offer numerous massage modes which may include but aren't limited to tapping, kneading, shiatsu, combination kneading and tapping, rolling and air massage modes.
Q: What is the 3D massage chair feature?
A: The 3D feature in massage chairs allows it to extend the rollers into your back and retract them back.  In addition to up and down motions, left and right movements, 3D massage chair rollers go in and out.
This feature allows more control over the depth of your massage. The 3D massage feature allows the user to fine-tune the massage from soft to deep tissue massage which is dictated by the depth the rollers can extend into your back.
Q: How much power does a massage chair use?
A: A standard massage chair uses almost the same power as your desktop computer would. The total power usage is inclusive of the heating elements and vibrating heads.
Q: Is a massage chair good for back pain?
A: Massage chairs are perhaps the best and cheapest option for persons suffering from back pain. Medical massage chairs are built to specifically address such problems as back pain, neck pain, and even sports injuries.
Consulting professional massage therapists every time you have back pains in a costly affair that massage chairs can help take care of.
Q: Do massage chairs have a money back guarantee?
A: Some massage chair manufacturers offer a money back guarantee that remains valid for a stipulated amount of time. For example, a 30-day return policy with a cash back guarantee may be offered on a specific massage chair model.
Q: Are massage chairs durable?
A: How long a massage chair will last depends on the quality of build and its upholstery. Cheap massage chairs are naturally expected not to outlast higher-priced models. All in all, quality massage chairs should last a while irrespective of how much use they are put to.
Q: What features are important to look for when purchasing a massage chair?
A: The recommended features one should look out for when shopping for a massage chair include the price tag, types of massages offered, reclining options, space-saving design, upholstery and ease of use. For people suffering from body pains, it is recommended to seek out massage chairs with the "medical massage chair" and "FDA approved" tags.
Q: Do medical massage chairs work?
A: Medical massage chairs come with an FDA approval which means they do indeed work. They are used in medical practice to natural correct some conditions without the need for pharmaceutical intervention.
Q: Where can I buy a massage chair?
A: You can buy your preferred massage chair model directly from the manufacturer's website or via licensed re-sellers such as Amazon
, Walmart, and other leading e-commerce stores.
Alternatively, you can buy a massage chair from a store or showroom that stocks up on massage chairs. Be sure to check whether the store or showroom is certified to deal with that manufacturer's products just in case you need replacements or repairs.
Q: Is a massage chair good for you?                                   
A: A massage chair is an excellent buy as it will promote great health and relaxation. Massage chairs are good for you not only in the health sense but also financially. They will save you a great deal of money you would otherwise spend on professional massage services.
Q: What are the benefits of a massage chair?
A: There are numerous benefits to using a massage chair. Massage chairs help to alleviate back pain, neck pain, fatigue, muscle pain, depression, high blood pressure and more. Massages promote natural healing and come highly recommended every once in a while.
Q: Do massage chairs come with a warranty?
A: Most massage chair manufacturers include a warranty period that may range between a year and two years. Others offer warranties that may extend for an additional 3-year limited warranty on parts, labor, and the chair's structural framework.
Q: How is a massage chair delivered?
A: Depending on how you purchase a massage chair the delivery options will vary. If you buy it from a manufacturer's site or showroom, the company may offer delivery and installation options.
If you buy from a re-seller, you may have the chair delivered either to your address or at a collection point where you will need to make your own arrangements.
Q: What is white glove delivery service?         
A: The White Glove service involves the delivery of a purchased massage chair to the customer's house and afterward assembled. The white glove service requires payment of a small fee on top of the chair's original price.
Q: Do massage chairs come with instructions?
A: Most massage chairs come with user manuals that detail how to properly use the chair.
Q: Are massage chairs user-friendly?
A: A majority of massage chairs are made to be very user-friendly. Most come with user manuals and easy to use remote control devices that allow users to explore the various features offered by the massage chair.
Q: What upholstery is on massage chairs?
A: Upholstery refers to the material used on the massage chair. Some types of materials used include leather and synthetic leather. Other aspects such as the color of the materials used are part of the upholstery.
Q: Can a tall person use a massage chair?
A: Depending on the manufacturer, a massage chair may or may not be suitable for use by tall individuals. A percentage of massage chair manufacturers are based in Asian countries.Where in those countries the average height is well below the six-foot mark.
However, a portion of massage chairs including the Kahuna LM6800 are built to accommodate persons as tall as 6'6'.
I hope our Massage Chair FAQ page has help answer your questions. If you have any more questions please let us know via our contact page, thank you.