In this Real Relax Massage Chair review we will highlight all of the benefits and features of this cheap massage chair. So you are able to make a confident decision by having as much information as possible.
The best part?
There is an in depth pros and cons list, so you know exactly what you are getting.
The bottom line is…
This is the best massage chair under a thousand dollars. It doesn't have all the features that a deluxe massage chair has, but it does have hip and lower back heating.
This is a great chair if this is the start of your massaging journey, with such a low price point you can go wrong. There are no other chairs of such high quality at this price level.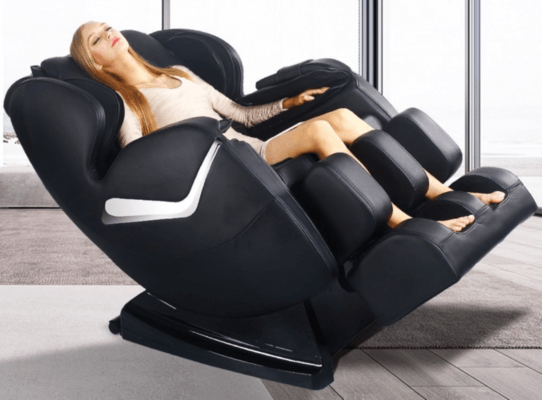 Real Relax Massage Chair Review Ultimate Guide
Are you looking for a cheap massage chair that will offer you a relaxing session and perhaps help you manage some types of pain?
Well, it has been proven that massages are a great remedy for issues such as depression, chronic pain, stress and even high blood pressure eliminating the need for pharmaceutical interventions.
The Real Relax Massage chair massage chair is an excellent pick for the budge-wary buyer.
The Real Relax Massage chair is mentioned among the top best-selling shiatsu massage chairs with zero gravity options, an extendable ottoman and more features designed to enhance the therapeutic massage experience.
Who Is The Real Relax Massage Chair Designed For?
The Real Relax Massage Chair is designed for the budget-wary buyer, casual users or hobbyists. The chair is an inexpensive, way to relax after a long day at work and offer a basic yet effective massage experience.
As far as height goes, the Real Relax Massage is built with taller users in mind. The Real Relax Massage Chair can accommodate an individual as tall as 6'3".
This is made possible by an extendable ottoman; an extension module that can be adjusted by a couple of inches, to accommodate taller users. This opens up the chair to a bigger segment of the market.
Real Relax Massage Chair Features
There are a lot of features offered by this affordable massage chair. Some top, most-sought-after features include the likes of zero gravity reclining, shiatsu massage options, and more. Take a look below.
To begin with, the design of this one-of-a-kind massage chair can be described as being nothing short of stunning. The chair is packed with a variety of features that are designed to deliver the most relaxing massage experience possible for it's price range, as the name suggests.
In addition to a full-body massage, the user is treated to a host of other unique features that include air massages, VR (virtual reality) support and more.
Below is a summary of the specifications you can look forward to in a chair of this caliber.
Air Massage
The Real Relax massage chair boasts a total of 35 airbags that work to give the user the most relaxing massage experience ever.
The airbags are strategically placed over the shoulder, arms, seat, and leg regions, gently helping ease fatigue and chronic pain. The air massage feature positions this model as the Best massage chair under 1000.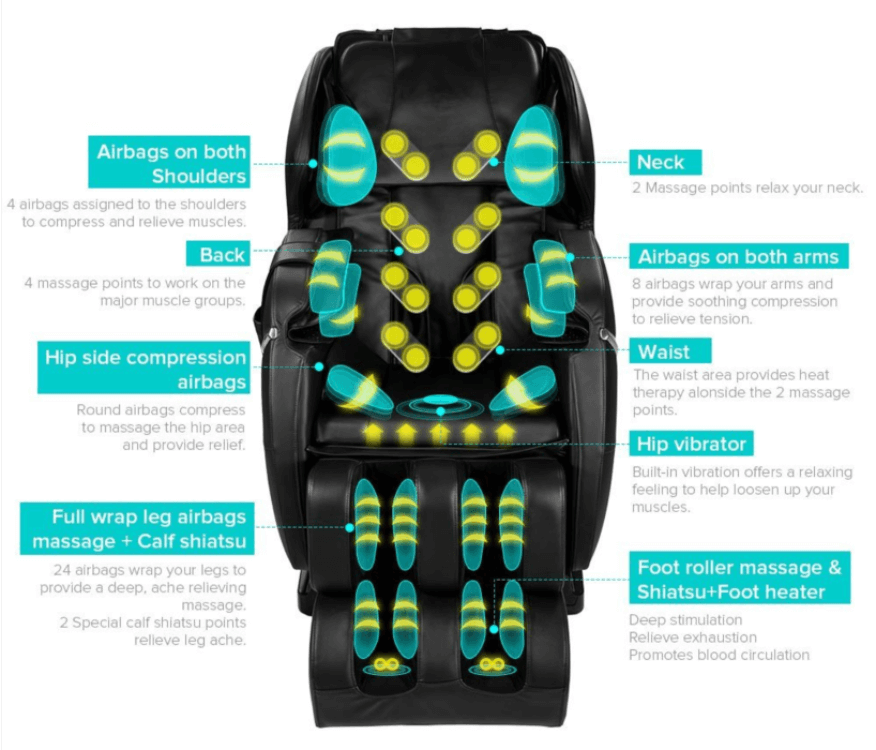 Zero Gravity Reclining Options
This massage chair is among the few models in it's class and price range that come equipped with the zero gravity reclining feature.
The zero gravity recline function places the user in a gravity-neutral position which takes pressure off the spinal column easing back pain and lowering high blood pressure. In this position, issues such as high blood pressure are resolved.
Upholstery And Color Options
The Real Relax massage chair is upholstered in excellent quality faux leather and is available in Blue, Burgundy, Black and Khaki colors.
Shiatsu Massage
The Real Relax massage chair does an excellent job of giving the user a shiatsu massage. The airbags are well distributed throughout the chair such that they align well with the body's meridians. Specific attention is placed on the user's vital points.
For a massage chair for back pain, the shiatsu massage feature is a welcome addition. Such is the quality expected from a model competing for the title of Best massage chair under 1000.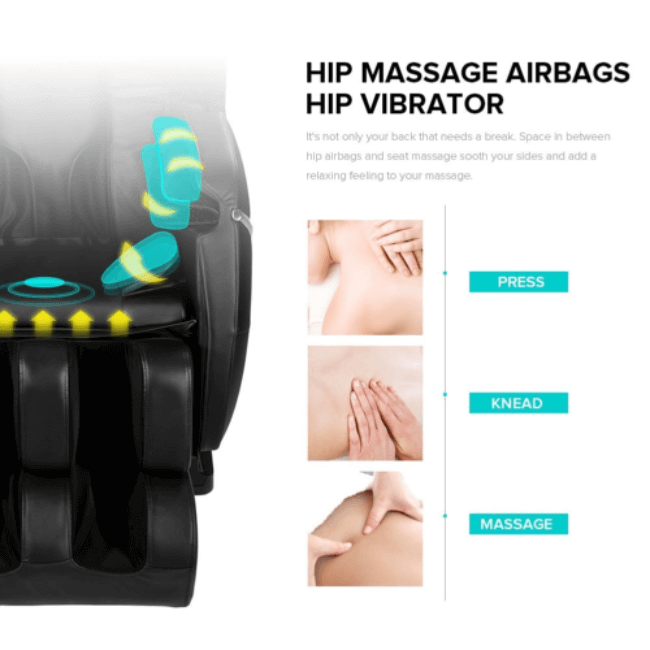 Massage Chair Weight
It weighs about 160 lbs and is fitted with wheels to make it easier to move around.
Types Of Massage Offered By The Real Relax Massage Chair
The Real Relax is a quality massage chair by all definitions and it is no surprise that it is one of Amazon's choice pick for massage chairs. So, what kind of massages can you look forward to from this chair?
Shiatsu Massage Therapy
Shiatsu massages are widely revered for their ability to restore the body's vitality. A Shiatsu massage is a combination of manual techniques that involve applying pressure along the body's meridians. The technique is based in oriental philosophies of medicine and holistic healing.
The chair offers shiatsu massages courtesy of stationary Shiatsu massage heads that are mounted onto a fixed frame in positions that align well with the body's meridians. Special attention is placed on the user's vital points.
This type of massage is great for providing relief for various musculoskeletal, and emotional issues.
Air Massage
The Real Relax massage chair is equipped with thirty-first generation airbags capable of delivering a solid massage experience.
Calf And Foot Massage
This chair offers a calf and foot massage experience that is more comprehensive than you would expect to find in an entry-level chair. The chair utilizes airbags and rollers for the calves and has additional rollers for the soles of the feet.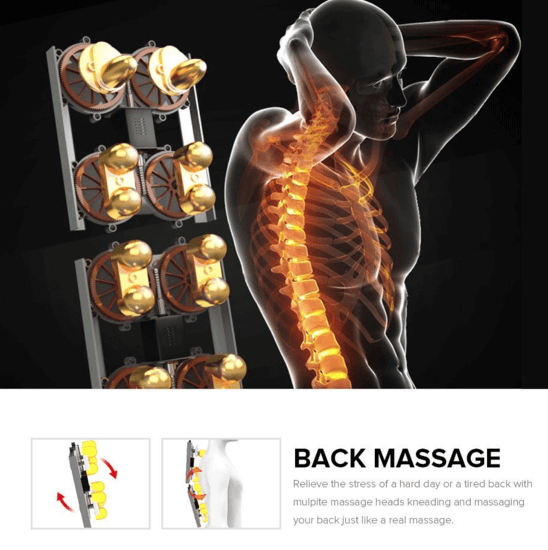 Full Body Massage
A combination of airbags and massage heads incorporated within the Real Relax Shiatsu Massage Chair ensure whole body coverage hence ensuring delivery of a therapeutic full body massage experience.
Heated Massage
The real relax massage chair has an inbuilt waits heating feature that is particularly useful in dealing with chronic lower back pain. The Real Relax massage chair offers a lower back and waist heating feature that specifically addresses symptoms of chronic lower back pain.
The heat expands the blood vessels in the lower back and calf regions improving circulation thereby helping ease any pain.
The makers of this massage chair recognize the importance of heat in massage therapy and went ahead to feature it as a standard.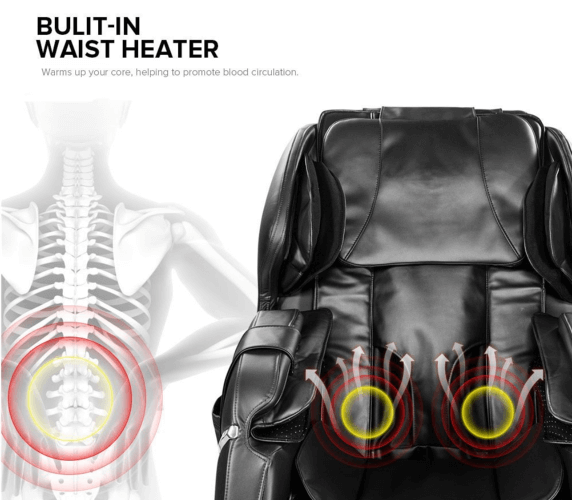 Four Pre-Programmed Massages
The Real Relax massage chair comes with four pre-programmed massages, but these mostly amount to minor variations in the speed and intensity.
Upholstery
The Real Relax massage chair is upholstered in grade "A" faux leather. This quality massage chair comes in either khaki, burgundy, or black colors. The texture of the leather it's aesthetics holds for quite a long time even with heavy usage.
The real relax massage chair is also made using advanced shock-absorbing foam that is also flame retardant and anti-static. The advanced foam is super 'quiet', it won't make any squeaky noises even when you move around on the chair.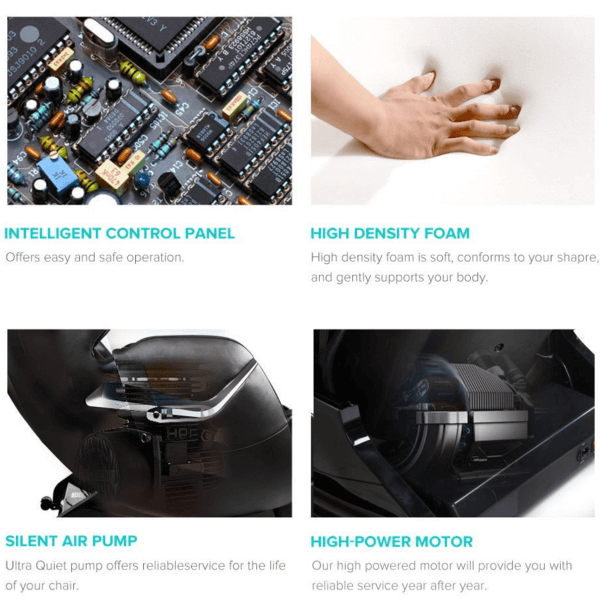 Warranty
As far as the warranty is concerned, the Real Relax chair comes with a three-year warranty, the longest for most chairs in cheap massage chair price range.
During the first year, the chair's warranty covers free maintenance and repairs to any defects in workmanship or materials.
In the second and third year; the warranty coves free shipping on replacement parts. However, the cost of parts and maintenance are not covered by the warranty.
Extendable Ottoman
The extendable ottoman on this model comes with an extension module which allows the massage chair to accommodate users that are up to 6'3" tall, which is a noteworthy mention. While this chair is lacking in other areas, it excels in accommodating taller users.
Surprisingly Simple Remote
As you might expect of a massage chair with basic features, the remote control device is easy to use which makes the chair easy to master in a short period.
There's no learning curve involved here, simply sit down, lean back, hands on the remote and enjoy your massage! There are 4 auto programs to choose from and you can set every program's massaging speed and strength using the remote.
When it is on, the Real relax massage chair will recline and you can use the remote to adjust the recline angles. The remote control features a VFD screen and has all it's buttons clearly labeled to avoid any confusion.
Pros And Cons Of The Real Relax Massage Chair
As with any full body massage chair worth mentioning, consumer impressions are important. To shed light on some aspects the manufacturers excelled at, and a few others they fell short on, we will examine the pros and cons.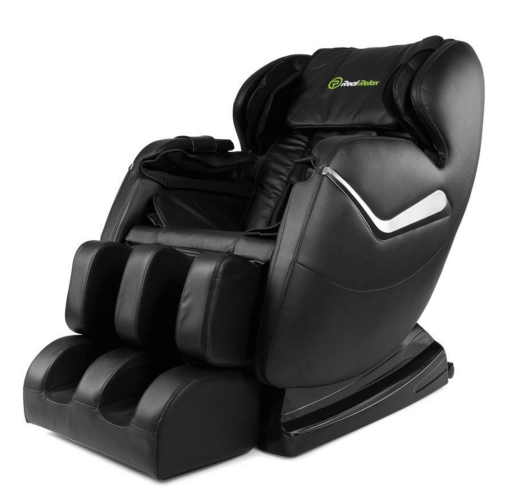 The Pros
The Real relax massage chair offers both compression and percussion type-massages. These features help to improve the users' flexibility, the posture of the legs and overall mobility.
This chair comes with a free virtual reality headset that enhances the whole relaxing massage experience.
The chair's massage heads have a motion range that covers most of the back and all the way down to the tailbone area. This is a great feature for alleviating chronic back pain.
The massage chair for back pain features adjustable air massage modes that can be varied to suit different massage needs. The chair also comes with varied massage intensity settings making it a worthwhile pick.
Only weighs 160 lbs and is fitted with wheels making it easy to move around.
 
The Cons
After the warranty period has elapsed, the real relax massage chair is very likely to malfunction. This raises serious concerns about the quality of build.
The lack of an actual S or L massage track or rollers for that matter makes this massage chair quite basic in the worst way.
The massages are rendered via eight "zones" located in the chair's back. These may or may not hit the correct spots as there is no way to adjust their positions.
The absence of features such as multiple massage modes, MP3 support, advanced controls, and a genuinely unique massage experience make this massage chair less than spectacular.
There have been complaints about the foot and calf massage being too harsh. You might have to manually apply padding to the leg ports and foot-wells in order to enjoy the feature.
Rating And Reviews
The Real Relax massage chair is rated 4.5 out of 5 stars on Amazon after 93 customer reviews making it Amazon's choice pick.
The real relax massage chair is a great buy for anyone looking for a massage chair that comes with great features at a great price.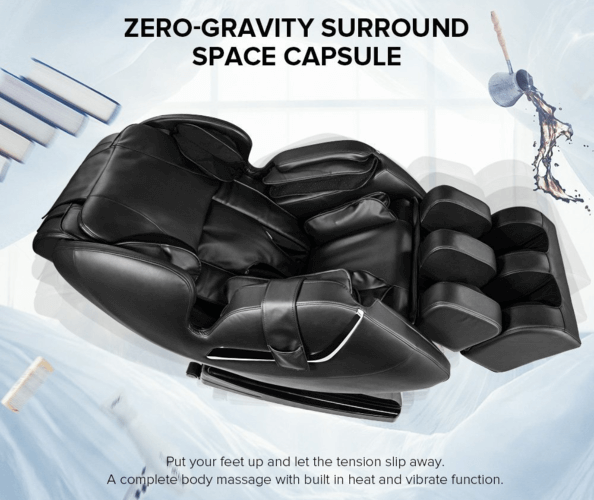 Real Relax Massage Chair Frequently Asked Questions
Q: How much does this massage chair cost?
A: The Real Relax massage chair goes for $$$. Taking into consideration the features it offers, $$$ is quite the bargain.
Q: How often should you use a massage chair?
A: There is no limit to how often you can use this massage chair. Massages are meant to be therapeutic and relaxing to your body meaning you can use the Real Relax Massage Chair as often as you like.
Q: Is using a massage chair when pregnant safe?
A: Yes, it is quite safe for pregnant women to use the Real Relax Massage Chair. Despite numerous claims that stimulation of pressure points in the back region can cause preterm labor, no evidence has come up to prove this. The unborn baby should be safe.
Q: What features are important to look for when purchasing a massage chair?
A: The recommended features one should look out for when shopping for a massage chair include checking the price tag, the types of massages offered, the power reclining options, space-saving design, upholstery and ease of use.
For people suffering from body pains, it is recommended to seek out massage chairs with the "medical massage chair" and "FDA approved" tags.
Q: Where can I buy this massage chair?
A: You can buy the real relax massage chair model directly from the manufacturer's website or via licensed re-sellers such as Amazon and other leading e-commerce stores. Alternatively, you can buy a massage chair from your local showroom that stocks up on massage chairs.
Be sure to check whether the store or showroom is certified to deal with that manufacturer's products just in case you need replacements or repairs.
Q: How do massage chairs work?
A: Massage chairs have massage rollers and heads that provide the person sitting in it the sensation of receiving a massage. Some chairs have vibrating elements, heating elements and more.
Others contain complex components such as airbags designed to mimic a human massage therapist's techniques.
Q: What is the zero gravity massage chair feature?
A: The zero gravity feature involves reclining the chair in a gravity neutral position. Therefor, resulting in the user's legs are placed in a position above or on the same level as the heart. In this position, the user experiences weightlessness lowering blood pressure and taking pressure off the spinal column.
Q: Which massage chair is the best?
A: There are different considerations that contribute to the choice of a massage chair. There are massage chairs made for different purposes such as back pain, neck pain and more.
Price factors also come into play as there are massage chairs prices that vary from very affordable to ultra-deluxe models.
Q: What types of massages do massage chairs come with?
A: The Real Relax Massage Chair offers numerous massage modes. Which includes calf and foot massages, shiatsu, back and full body massage and air massage modes.
Q: How much power does a massage chair use?
A: A standard massage chair uses almost the same power as your desktop computer. Therefore the Real Relax massage chair uses way less power since it only has stationary massage heads and a waist heating element.
The chair's voltage is AC 120V 60Hz and fits a standard home outlet. It uses about 100 Watts.
Q: Will the massage chair have a money back guarantee?
A: Unfortunately, there is no money back guarantee offered on this model.
Q: Do massage chairs come with a warranty?
A: The Real Relax massage chair comes with three years' worth of warranty.
Q: Do massage chairs come with instructions?
A: Most massage chairs come with user manuals that detail how to use the chair. The Real relax massage chair comes with one too.
Q: Can a tall person use this massage chair?
A: Yes, the Real Relax massage chair is built to accommodate persons as tall as 6'3'. This is however not a standard feature in most other massage chair brands. Especially in models designed and manufactured in Asian countries.