One of the more modern beauty trends still growing within households across the globe is the use of a face massager. These skin care machines have shown fantastic results in men and women alike, offering subtle daily boosts to our skincare routines and general facial skin health. 
While many believe in the benefits of using a face massage machine, myself included, many are still sceptical about whether these machines actually show results or if they're just another beauty fad. 
I think it's understandable to question the relevance of these skin care tools as many products simply won't produce the same results as the more tested and trusted options in the market. 
Not to worry, today we'll be looking at the best face massagers available in Australia and discuss the pros and cons of each machine as well as look at how these products have been reviewed by everyday individuals. 
Top Face Massager Machines for 2023 – Our Front Runners
Top Pick – Foreo Luna 3 Personalised Silicone Facial Cleansing Brush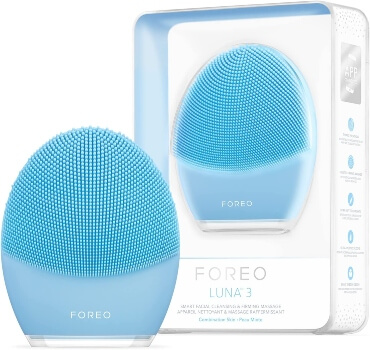 With overall positive reviews from users across the country, the Foreo Luna 3 is a standout in this brand's range. It is made from ultra-hygienic silicone that comforts and cleanses the skin while also sporting an extensive range of technological features for your everyday skincare needs.
While it does require a larger investment than other face massager machines on this list, the product does give you lots of bang for your buck when looking at its capabilities, design and the premium materials used. This is why it is our top pick for 2023. 
Premium Choice – NuFace Mini Petite Facial Toning Device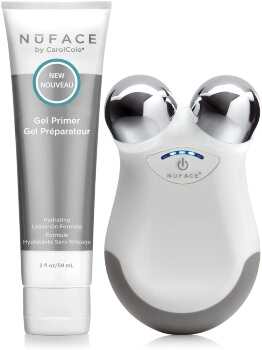 Sporting premium design and functionality, the NuFace Mini is perfect for those on the move and has been positively appraised by users globally for its exceptional feel and tangible results. 
You can't go wrong with this premium product so if you're looking for the best face massager machine, this product is certainly worth considering.
Best Value – MiSMON Wrinkle Remover 5-in-1 Facial Massager and Cleanser

Coming in at a fantastic price point for what it offers, the MiSMON Wrinkle Remover has been praised by many Australian women who have seen and felt the benefits of using this face massager consistently. 
It offers that perfect balance between price and design, featuring a modern look and feel. This face massage machine is excellent value for money so it has to be our top choice in this category.
How and Why You Should Use a Face Massager
Not only do these nifty machines offer us a relaxing muscular massage experience on our faces and necks, but face massager benefits our skin in many other ways. As with any routine, consistency is key and this is what many users have cited.
They seem to see better results when the products are used properly, consistently and in conjunction with other beneficial skin care products.
Some of the purported benefits of using a face massager include:
Anti-aging and wrinkle reduction
Relief of sinus-related pressure
Reduction of acne and other nagging skin imbalances
Reduction of dark circles around the eyes
Relief from joint discomfort in the jaw and face
Plumper skin that glows after regular use
Improvement in general skin blood flow and circulation
Aids in the management of minor scar tissue
Overall facial rejuvenation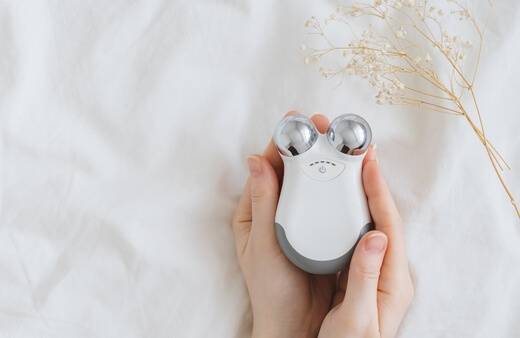 How to Use a Face Massage Machine at Home
While most of these machines will come with a basic user's guide, it's good to know a little more inside information to ensure you get the best experience possible. 
Most consumers will initially use their face massager to stimulate their skin by selecting one of the pre-set modes and placing their machine on the skin but you can also increase the efficiency and effectiveness of your serums, cleansers and moisturisers as well. 
This is why most users will use their face massagers in conjunction with their everyday skin care products as it can allow for better absorption, retention and ease of application when using these creams and cleansers.
Many have also reported that eye cream application is far easier and a lot more comfortable than using your hand. 
Here are a few quick tips you can consider implementing when using your face massager:
Use a gentle circular motion around your face and neck
Cleanse before and after use
Apply a moisturiser or serum to your face and neck while using the machine
Test out the different pre-set modes which can include massage, cleansing and anti-aging modes, each offering a different feel and experience. 
Guarantees
Due to hygienic reasons, many of these products do not come with guarantees or warranties as reselling them after even a single use is almost always unlikely. However, there are a few of the products that do come with some sort of guarantee so I will be sure to highlight those in our buyer's guide to come.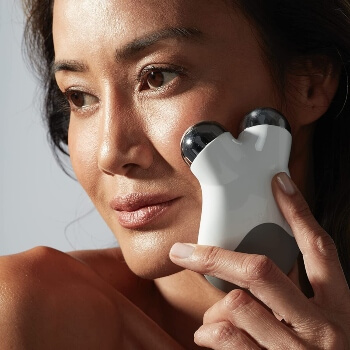 Know When to See a Pro
Most of these face massager machines are intended for daily to semi-daily use to improve smaller ailments in facial skin and to offer a more relaxing skincare routine for users at home. They are made to boost the application of products and offer gentle stimulation to the skin to improve circulation and reduce signs of stress.
For any medical concerns including serious acne, joint issues or severe scarring, it's always best to first see a professional as they have the skills and expertise to tailor your facial massage to your specific needs and they will also be able to recommend more specialised products or treatments if needed.
9 Best Face Massager Machines for 2023 – Reviews and Buyers Guide
As with any product, technical features and the overall user experience will be determined by your investment in many regards. Some products require a smaller investment and therefore have more limited specs and less of that luxurious feel we aim for when working with beauty products. 
However, we have compiled a thorough range for you to consider that spans from more affordable options to top-of-the-line products in the market. So, whatever your budget may be, I'm certain you will be able to find a product that is right for you today. 
Here are our top picks for the best face massager machine options in Australia.
1. PMD Beauty Clean Pro Facial Massager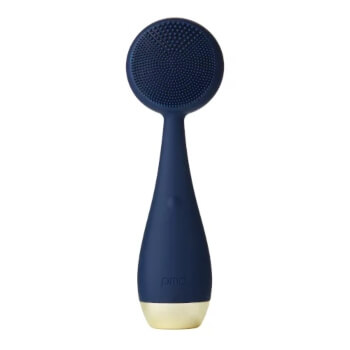 Famed more for its cleansing features, this luxurious device sports a combination of antibacterial silicone bristled cleansing with premium warming technology for your everyday facial massage needs.
It features an ergonomic design that is easy to use and the head won't need to be replaced so there are no hidden costs down the road. It is waterproof, rechargeable and can work with any of your daily serums and moisturisers for deeper penetration.
Though it is one of the more expensive on our list, its new-age technological features and overall capability is certainly worth the investment.
Warranty: 1 Year
PROS
Good battery life
Easy to use and clean
Looks sleek and ergonomic
Silicone feels great on the skin
CONS
Button cycling can be frustrating
Product longevity has been questioned by some users
Requires a larger investment
2. FOREO The Iris Eye Massager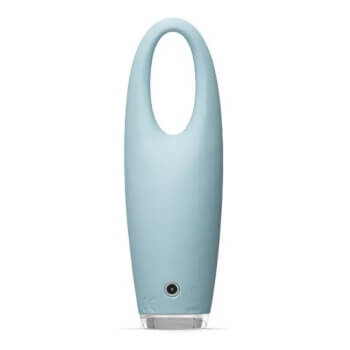 This super sleek face massager is another excellent product for the Swedish manufacturer. It is widely used as an eye massager that can dramatically improve the absorption and efficacy of your favourite eye creams and serums. 
It utilises T-Sonic technology to visibly reduce signs of crow's feet, dark circles and bags under your eyes. With 8 intensities and 2 relaxing modes to choose from, this product is your one-stop option for your eye care needs.
It is also rechargeable, waterproof and very easy to clean. Enjoy 1-minute treatments in the morning and evenings with this must-have accessory. Available in 3 shades.
Warranty: N/A
PROS
Deep eye massage for improved circulation
Relaxing and fun to use
Helps reduce puffiness and dark circles around the eyes
Helps serums and moisturisers absorb faster 
Overall, very well-reviewed by Australian users
Sleek, compact design
CONS
Still a little pricier than others on this list
3. Cerlingwee Electric Face Massager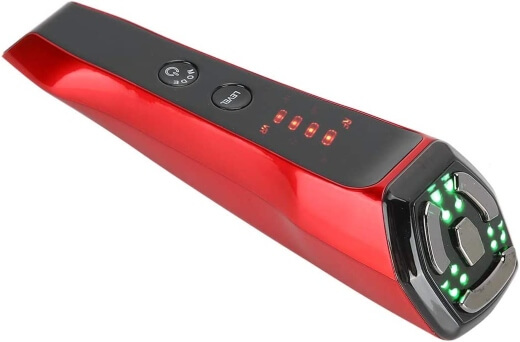 This device primarily uses phototherapy with micro electric pulses to help deeply cleanse pores and stimulate muscle vitality in the face. It is suitable for regular use where the 6 LED coloured care modes can help to reduce and tighten fine lines in the skin for a brighter appearance. 
Though it seems this device is not capable of the same deep massage that others offer, it is a great option if you're more interested in the cleansing and general skin vitality this face massager can offer. 
Warranty: N/A
PROS
More affordable
Can be used daily
Deeply cleanses pores
CONS
Reviews are hard to come by
Only comes in red
Less modern design built with lower-grade materials
4. NuFace Mini Petite Facial Toning Device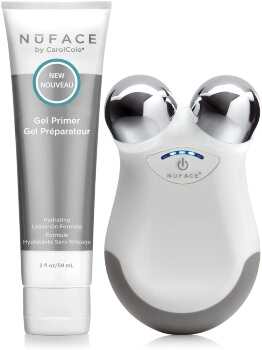 Being one of the more premium options on our list, this face massage machine sports a fashionable design with all the new-age technological features you would expect from a trusted brand like this. Its compact design is perfect for travellers and it is an FDA-Cleared at-home system so you know you can rely on the product's claims a little more. 
It features a deep and relaxing 5-minute facial lift procedure that you perform 5 days per week initially. It can be used with all types of primers, moisturisers, serums and creams to give your face that extra boost for your day-to-day activities.
This face massager aims to tone, lift and contour the face and neck, reducing the appearance of fine lines and wrinkles while stimulating muscles with microcurrents. 
Warranty: N/A
PROS
Sleek and modern design and functionality
Regular use seems to show results
Convenient for travel
Quick and easy to use
Comes with a Gel Primer
FDA-approved
CONS
Large investment versus others on this list
Doesn't seem to come with a return policy
Only available in white
5. RENPHO Electric Head and Body Portable Massager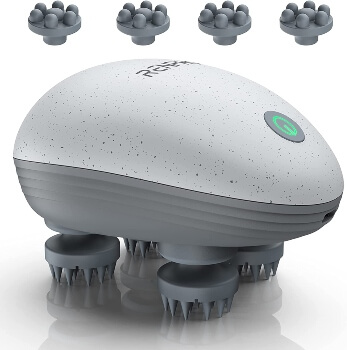 While this face massager may not look as impressive as some of its counterparts, its simple design allows for more focus on the overall feel and impact of the product. It is a portable, waterproof massager that can be used for deep facial cleansing, full body massage on the go and stress relief. 
Its silicone brushes allow for that more luxurious feel on the skin and it comes with 4 replacement heads that each offers a unique feel as well. It has 3 massage modes that differ in intensity and it utilises an impressive 76 individual nodes that conform to fit the surface of the skin to provide a gently kneading 360° massage experience. 
This product can even be used on your pets and it makes for a fantastic gift for both men and women. 
Warranty: N/A
PROS
Simple but works and feels great
Can be used on your face, scalp and body
Good battery life
Well reviewed 
Cost-effective
Perfect for travellers and pets
CONS
Lower in overall quality versus the pricier options
Some brushes can feel a little hard on sensitive skin
Product longevity is unclear as there is no mention of a warranty
6. FOREO Luna 3 Personalised Silicone Facial Cleansing Brush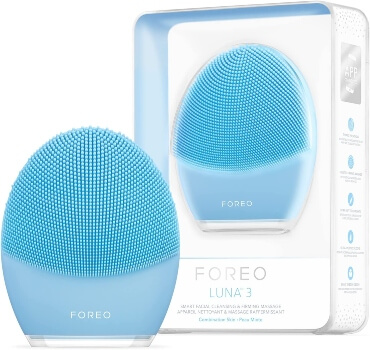 This face massager is the perfect pick for more modern users who don't mind a fully app-integrated experience. This product is the flagship of the brand, sporting an extremely comfortable and purpose-driven design to help combat the signs of aging while also offering a deeply cleansing experience. 
Perfect for combination skin, this device channels T-Sonic pulsations for exfoliation gentle enough for everyday use. It is made from ultra-hygienic silicone and features a ground-breaking design from the manufacturer. 
There are 3 different models available tailored to specific skin types so you're bound to find the right Luna 3 for your needs. 
Warranty: N/A
PROS
App integrated 
Soft, premium materials used in the design
Easy to use once registered to the app
Available in a range of colours
CONS
Being a newer product, it requires a large investment
Needs to be unlocked with the app so you need access to your phone to use it
Less expensive products can offer a similar experience
7. VOYOR Handheld Deep Tissue Face Massager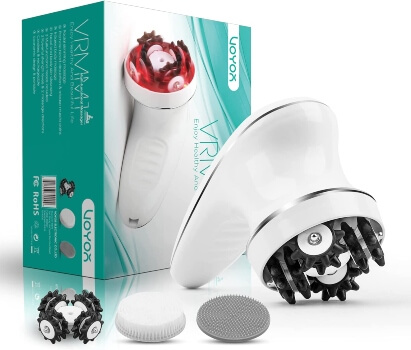 This is another face massager that strikes a good balance between price and functionality. It comes with 3 multi-function heads that can target your face, neck, hands, arms, feet and body which allows you to get a rigorous experience with this device. 
The silicone rubber heads are made to cleanse and massage using 3 strength levels and 2 massage directions. This face massage machine is portable, cordless and waterproof with an ergonomic handle design to make it easy to use wherever you are. 
Enjoy affordable cleansing and full body massage capability with this all-in-one massager.
Warranty: N/A
PROS
Can be used on your face and body
Good value for money
Well reviewed 
Cleanses, exfoliates and massages 
Comes with 3 interchangeable heads
Targets cellulite
CONS
Some brushes can be hard for sensitive skin types
Its bulky design and be tough for smaller spaces
Can only be used with short hair on the scalp 
8. Mongonic Hot and Cold Skin Care Facial Massager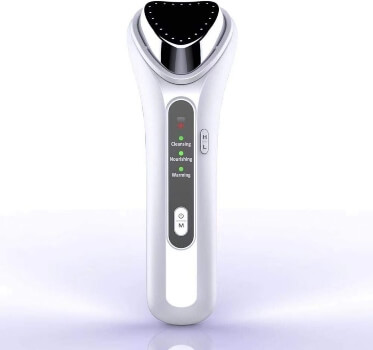 Using subtle vibrations and a head that heats to 42°C, this facial cleansing device can help your skin naturally produce more collagen and thus help to restore elastic skin. Featuring ultrasonic capabilities, this nifty device can also ensure your cosmetic products penetrate the skin more effectively, leaving you with more radiant skin after consistent usage. 
Though its design may be a little dated, reviews show that this device is a great option for those keen on trying a face massager and cleanser for the first time. Coming in at an affordable price point, this product is a good option if you're more interested in a heated cleansing experience than a massage. 
Warranty: The product is guaranteed for 12 months from the date of purchase
PROS
Affordable and functional 
Comfortable on the skin
Great for travel
Light and easy to use
CONS
Can't compare to more expensive devices
Battery life is not as good as more premium products
Not as easy to clean versus silicone options
Does not feature extensive massage functions
9. MiSMON Wrinkle Remover 5-in-1 Facial Massager and Cleanser

Offering a healthy variety of functionality including skin tightening, wrinkle removal, face lifting, skin whitening and anti-aging features, this device is also great to improve the adsorption and efficacy of your daily skincare products. 
It uses a combination of 4 major beauty technologies to fully rejuvenate and target difficult spots on the face while still offering a gentle massage experience that can be done up to 10 minutes per day. 
This product can also be used on your face and neck and it comes with easy-to-understand modes to make your day-to-day cleansing stress free and as relaxing as possible. 
Warranty: N/A but the manufacturer has contact details available in case of any concerns
PROS
Affordable with a premium experience
Good battery life
Comfortable, easy-to-use design 
Seems to offer a lot for the investment
CONS
The overall quality cannot be compared to more premium devices in the market
The display can appear dated
Face Massager Frequently Asked Questions
How often should you use a face massager?
Experts advise on a facial massage at home about 2 to 3 times per week. However, a gentle massage daily for 5 to 10 minutes shouldn't harm your skin. Light, daily use can promote blood circulation and reduce wrinkles more so than less frequent uses it seems. 
Be sure to check what each specific product recommends as well. 
Why is vibration good for your face?
The vibrations and heating functionalities can help to boost circulation which will increase the skin's oxygen uptake, making you glow more with regular use. It will also help the skin appear firmer and more contoured if used properly. 
Does vibration stimulate collagen?
It is believed that these vibrations from face massage machines may increase the production of collagen to help strengthen the skin. This would result in an improved appearance of fine lines and wrinkles over time. Face massager tools also allow for better product penetration. 
Can you massage your face too much?
Signs of excessive massage include skin inflammation or irritation which can have negative side effects on sensitive skin types. Should you notice any of these signs, be sure to reduce usage to where you are comfortable and seeing results. 
Best Face Massager Picks for 2023
Top Pick Face Massager – Foreo Luna 3 Personalised Silicone Facial Cleansing Brush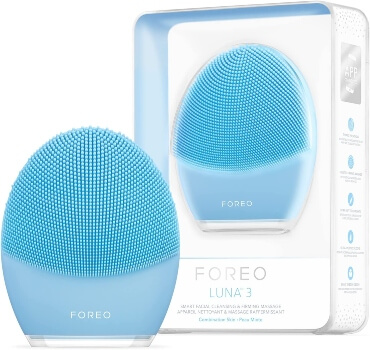 This fantastic device encompasses an extensive range of features while being extremely comfortable for the skin and easy to use daily. Its ground-breaking design can give you that premium feeling and its app-based capability fits in well with the way consumers are choosing to use their products today.
Though it requires a larger investment, the product is certainly worth it for those who are interested in the best possible experience when using their face massage machine. 
Premium Choice Face Massager – NuFace Mini Petite Facial Toning Device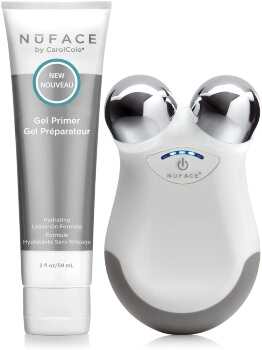 Sporting a unique and modern design, this device is also one of the more capital-intensive. However, reviews and product descriptions show that the results justify the price point. This face massage tool is a great option for those on the move and who are looking at experiencing that premium look and feel. 
Enjoy highly-rated cleansing and massaging with our premium pick for 2023. 
Best Value Face Massager – MiSMON Wrinkle Remover 5-in-1 Facial Massager and Cleanser

Considering all this product offers and its price point, it's easy to see why it's our pick for the best value in 2023. The positive reviews from everyday users also certainly help to reinforce our belief in this product. 
This device would be a great place to start for those who are new to face massagers before moving onto more premium options in the market as it's easy to understand and still features an extensive range of functionality and convenience. 
Wrapping Up Our 2023 Face Massager Buyers Guide
Now that you have a better understanding of the face massager machines available to you, I hope this guide helps you make an informed decision that will lead to your skincare routine being better and enjoyed more. 
With so many fantastic options available that cater to all budgets, I'm pretty confident you'll be able to find the right device for your needs whether at home or on the go. Elevate your skincare today with one of these fantastic face massager products available in Australia.